Update - WickedWhims v167g
---
Supported Game Versions:
1.82.99, 1.83.24, 1.84.197, 1.85.203, 1.86.166
Make sure to remove old mod files before installation!
- Changelog -
v167g
Fixed 'Slow Down Time During Player Sex' setting sometimes triggering for NPC exclusive sex
Fixed some menstrual cycle moodlets not disappearing after Sim's period ends
Made small alterations to developing of Attractiveness preferences
v167f
Fixed errors after saving the game
v167e
Assured compatibility with the 1.84.197 (February 23rd) game patch

Fixed a few sex-related technical errors
Fixed Sim-specific save data reverting on travel
Made the 'ww.dump_installed_animations' command display custom location raw name when available
Added a warning when using an unsupported game version
v167d
Asking to have sex now matches the base game checks for gender preference compatibility

Fixed asking to join sex not working if no Anal sex animations are available
Fixed 'Make a Move' not considering outdoor locations properly
Fixed testing for accessibility to beds and hot tubs not working
Fixed Sims watching sex interrupting themselves by reacting to sex
Fixed conflicting traits disappearing from the list instead of showing up unavailable
Fixed Body Selector feet not showing up during massage interactions
Added 'Create Window Peeping Premade NPC Sims' setting

If you have previously used a command to get rid of premade peeping Sims from your world, they might be back. That's due to changes in the game that prevent empty households from existing, allowing the premade peeping Sims household to come back. The new way to prevent these from spawning is disabling this setting.
v167b / v167c
Fixed issues with the save system
Fixed joining to sex and moving sex not working
General
Made all custom reactions come with a balloon category icon
Improved consistency of custom reactions
Almost all custom reactions were updated to improve consistency and provide more context as to what's happening. Sims reacting to nudity can now focus on something specific they like and reactions to pee, cum, and peeping are just more obvious when they happen.

Sims selecting menus now come with the option to pre-select all Servo or Ghost Sims
Fixed issues with the reworked save system
Rewritten Fatal Error notifications to provide more information
Wicked Attributes
Added 'Generous Lover' Wicked Attribute (Trait)
Sims with the Generous Lover Wicked Attribute will ensure their partner positive sexual satisfaction but sometimes at the cost of their own satisfaction. These Sims can't receive the negative sex sentiment and aren't affected by Selfish Lovers. It's all about making them enjoy it.

Sex
Added 'Multiple Sims Start Switch' sex setting
Once you enable the 'Multiple Sims Start' sex setting you will be able to start sex interactions with more than two Sims at once. This should make initiating orgies much easier but at the cost of Sims talking before starting.

Found at Sex Settings -> Sex Interaction -> Multiple Sims Start Switch.

Added the ability to 'Leave' sex without ending it
Made joining sex and inviting to ongoing sex cleaner
Made moving sex to a new location cleaner
You can now make any number of Sims leave an ongoing sex interaction without having to stop the whole thing from happening. Here's a tip, there are no limitations to this, so you can create some conflicting pairings of Sims, I hope you enjoy that!

Additionally, moving sex to different locations, asking to join in sex, and inviting Sims to join in sex have been reworked to use a new universal sex animations menu. This method is quicker, slicker, more flexible, and cleaner looking.

Added tooltip with the name of the next animation to the 'Next' interaction in sex

Added 'Dynamic Sex Duration Padding' sex setting
With Dynamic Sex Duration Padding, every time you change the playing sex animation to a different one, if the animation didn't play at least half of it, the duration that it did play will be returned back from the total duration of the sex interaction (capped at 10% of the total potential duration of the sex interaction). This allows you to change sex animations and find the ones you like the most without worrying that the sex interaction will end too soon.

You can find this setting at Sex Settings -> Sex Interaction Settings -> Sex Progression Settings.
Rewritten all Code 19 sex popup messages to provide more information
Watch Sex
Added 'Invite to Watch Sex' sex interaction
Sims asking to join can now be instead told to watch
Sims will now consider watching sex when they encounter it in the wild
Added a few more watching sex animations
Sims watching sex was always such an underdeveloped functionality, with it only working when playable Sims are involved or when a Sim has the Cuckold trait. From now on, Sims can decide if they are interested in watching sex they encounter, and even if they don't, you can still try to invite them to watch.

Additionally, if an annoying Sim wants to join in but you don't like the idea of it, you can instead tell them to watch.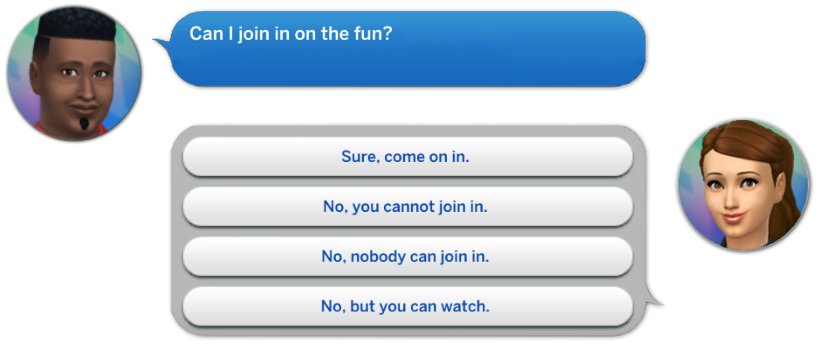 Nudity
Added 'Naked in Onsen Hot Springs' Nudity Occurrence setting
If you want to assure that Onsen Hot Springs always follow the traditionally nude way of bathing, this setting will help you with that. Still, remember that this won't apply to Sims that aren't Nudity Enthusiasts (or with the All Sims are Nudity Enthusiasts setting enabled).
Fixed reacting to nudity interrupting Sims tasks way too much
The game can get a little messy when naked Sims are everywhere and everybody constantly stands up to have a moment of shock. Reactions to nudity will be interrupting Sims tasks way less but you will still be able to tell they noticed thanks to the thought balloons.
Fixed using Default 'Complete Undressing Type' setting breaking complete undressing
Pubic Hair
Added 'Get Bikini Wax' phone interaction
Removed 'Disable Growth of Pubic Hair' interaction
Uh oh, you can no longer simply disable the growth of pubic hair on individual Sims by clicking an option. With this revolutionary change, you click an option AND have to pay for it. Ah, so much better, that's gameplay.

Sims who want to stop the growth of their pubic hair now have to get a bikini wax. It's a one-time service that costs §100, but be careful, choosing a new pubic hairstyle will remove the waxed effect and you will have to get it again.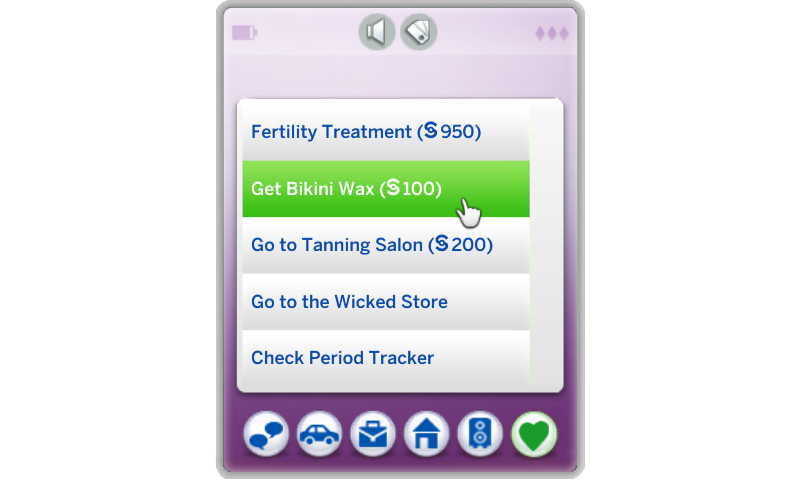 Files
WickedWhims v167g - 15 March 2022 (74222).zip
81 MB
Mar 15, 2022